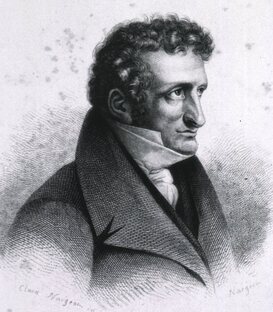 (Image courtesy of the National Library of Medicine)
Jean-Marc-Gaspard Itard traveled to Paris in 1796 to study medicine. After becoming an accomplished surgeon, Dr. Itard worked at the National Institute for Deaf-Mutes. Dr. Itard was interested in the study of training deaf-mutes and he took an interest in Victor, a boy at the Institute. Victor had been found in the woods around Saint-Sernin in southern France, an apparent "wild boy" with virtually no exposure to civilized society.
The Society of Observers of Man claimed the boy for observations. Dr. Phillipe Pinel, one of the five observers, delivered a report claiming that Victor was an incurable idiot with no chance for improvement or education. Dr. Itard disagreed with Dr. Pinel and went against the recommendations, keeping Victor at the Institute and personally training him for almost five years.
Though never making the progress he had hoped, Dr. Itard's techniques and willingness to stand up for the cause of "Victor the Wild Boy" were very influential to the training and education programs of the time.
In 1825, Dr. Itard described the case of Madame de Dampierre, a woman who had a habit of shouting out obscene words during conversation. Sixty years later this case was cited as an example of what would become known as Tourette's syndrome.